Measles is immediately reportable in Orange County, even if the case has not yet been confirmed but is suspected.  To report a case, health care providers/facilities should call OCHCA Communicable Disease Control Division at 714-834-8180. Residents with questions related to measles or potential exposure may also call the HCA Health Referral Line at 1 (800)-564-8448.
General Measles Information

 
Photo Source: CDC: https://phil.cdc.gov/Details.aspx?pid=17980

Measles is a highly contagious and potentially severe disease that causes fever, rash, cough, and red, watery eyes. Measles spreads very easily by air and by direct contact with an infected person. Measles is contagious from approximately 4 days before the rash appears through 4 days after the rash appears. Exposed people who have not had measles or been vaccinated generally develop symptoms approximately 8-12 days after exposure to measles, with rash appearing an average of 14 days but up to 21 days after that of the initial case.

Measles was eliminated from the United States in 2000, meaning that ongoing continuous transmission no longer occurs here. However, measles cases can still be imported from areas that have measles circulating and can spread quickly in communities with unvaccinated persons. Maintaining high vaccination rates is vital to preventing outbreaks of disease in our community. 
                                                 
A safe effective vaccine is available to prevent measles and is part of the combination MMR (measles, mumps, rubella) vaccine.  Two doses are recommended for all children with the first dose routinely at 12-15 months and the second dose at 4-6 years.  Adolescents and adults who have not been vaccinated or had measles should also receive MMR.  Age appropriate vaccination against measles is required for child care, preschool, and grade school entry in California.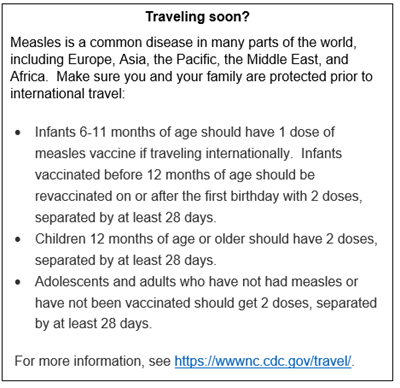 Latest News
Healthcare Professionals

Resources
For more information, see the Centers for Disease Control (CDC) website https://www.cdc.gov/measles/.
Page Last Updated: 12/5/2023